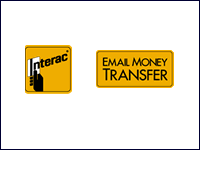 Now you can pay your regular monthly bill for our services through the Internet, if you have an account in one of the five major banks in Canada. This option is called Interac Email Money Transfer. To send a payment (money), you must have online access to an account at one of the participating financial institutions.
Interac Email Money Transfers lets you send and receive money as fast as email - right out of or right into your bank account. If you already do your online banking, all you need to know is our email address so that you can send your payment to us. Our email address for payment is This email address is being protected from spambots. You need JavaScript enabled to view it. You will also need a "mutual password" which you can obtain by contacting us.
More information can be found below. A service charge from your bank may apply, depending on your financial institution, therefore, you may want to check with your bank prior to using this payment method. Please call us if you have any questions at (416) 255-3904.
Interac Email Money Transfer is a secure, simple and convenient way to send and receive money directly from one bank account to another.
All you need is access to online banking through your participating financial institution, and you can send money to anyone with an email address and a bank account in Canada.